You can pay for your parking with the PayByPhone, Flowbird Parking and Whoosh! mobile applications. Parking meters are always available for payment in cash or by bank card.
OPT FOR PAPERLESS TICKETING
Advantages depending on the app used:
No more need for cash
Secure remote payment, with or without creating an account
Ability to receive an SMS notification on your smartphone before the expiration of your parking time (additional charges apply depending on the apps)
Ability to renew your parking remotely or to stop it at just the right time based on the actual time you are parked
No more paper tickets, the electronic receipt is sent by e-mail
These three apps can also be used in many other cities in France.
HOW THE APPS WORK
When you have parked your vehicle in a paid parking space:
log in to the mobile application, with or without an account
indicate the zone code shown on the nearest parking meter or on the map of the town centre
enter your vehicle's registration number
choose the duration of your parking
make payment with your bank card
The inspection agent inspector checks your parking status by scanning your licence plate.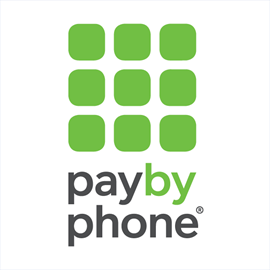 WHAT ARE THE "ZONE CODES" TO BE SPECIFIED ON THE PAYBYPHONE APP?
Depending on where your vehicle is parked (short or long term zones) and your profile (visitor or resident), 6 different zone codes can be used. These codes are also displayed on all parking meters:
Short-term zone code (all sectors): 21036
Long-term zone code, city centre VISITOR: 21032
Long-term zone code, city centre RESIDENT: 21034 **
Long-term zone code, other sectors VISITOR: 21030
Long-term zone code, other sectors RESIDENT: 21031 **
Long-term zone code, "Hyacinthe Vincent" sector RESIDENT: 21029 **
Activate your resident rights
Parking IS ALSO...