CONVENIENT FEATURES AT YOUR FINGERTIPS, IN REAL TIME
Need help getting around by bus, tram, bicycle, on foot, by car or carpooling? You need the DiviaMobilités app! It has features that make your travels easier:
MULTI-MODAL:
Calculate the best route to get from point A to point B with all mobility solutions: bus, tram, personal bicycle, self-service bicycle, car or on foot
Follow news from the DiviaMobilités network:
View current disruptions on the network and receive "traffic info" notifications based on your favourites
Report an issue, submit a suggestion to our team or tell us about a malfunction
Bus&Tram:
TOTEM to see when the next bus or tram is coming
Timetable for your stop
PASSES & rates
View network maps
BICYCLE:
Locate the 40 DiviaVélodi self-service bicycle stations
View the number of available spaces/bicycles in real time and in predictive mode (likelihood of availability in the next 15, 30 or 45 minutes)
PARKING:
Locate the 10 DiviaPark parking garages and the 3 P+Rs
View the number of free spaces in each car park, in real time
View the paid parking areas in Dijon city centre
Record your vehicle's parking space so it's easy to find later
Check if your vehicle has been impounded
PERSONAL ACCOUNT & E-SHOP:
Reload your Trip or Subscription PASS on your ticket card/device
Check the content of your DiviaMobilités Card
Personalise your information
Subscribe to the Illico Service or Liberté PASS.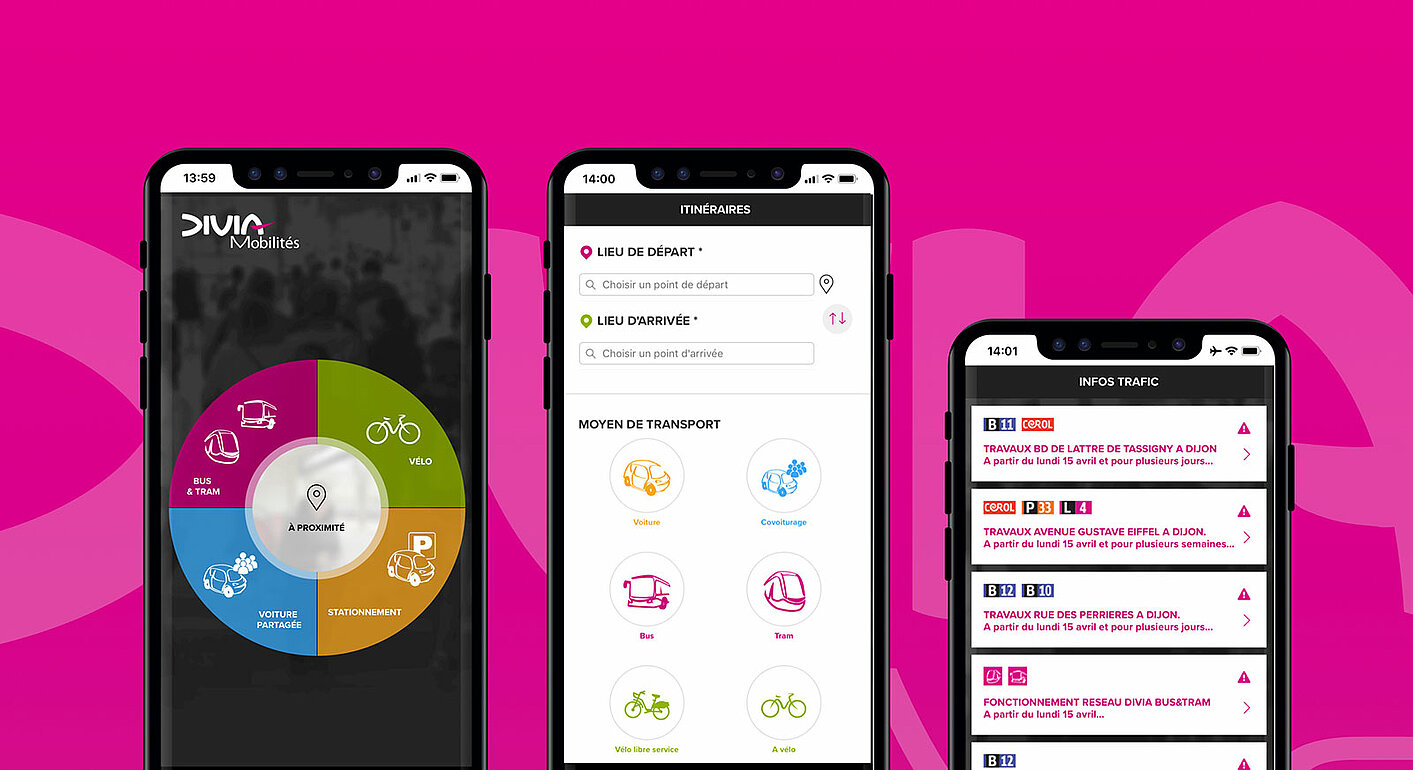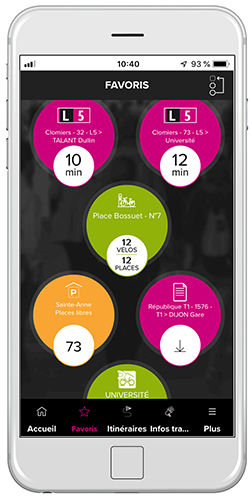 ORGANISE YOUR FAVOURITES ‒ BUS & TRAM, BICYCLE, PARKING...
From the home page, choose your mode of travel and add your favourites any time. You can see them at a glance, on a single page, and choose the most suitable travel solution according to your mobility habits. Rearrange the order of your favourites according to your needs.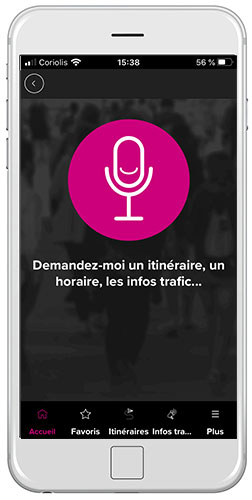 MOBILITY COACH: PRACTICAL AND FUN!
The DiviaMobilités app features a voice assistant. Press the "microphone" button to activate your "Mobility Coach" and ask it for your timetables, itineraries, traffic information... The more you use the coach, the more it learns... and the more helpful it is!
Download the DiviaMobilités app from the App Store* (iPhone) or Google Play* (Androïd).
* Minimum versions to run the app: iOS 10 and Android 4.4